NEWS AND EVENTS

46th IAFEI WORLD CONGRESS - 9-11 NOVEMBER 2016 - CAPETOWN, SOUTH-AFRICA
Click on the image to view photos, presentations and videos.
VIETNAM CFO FORUM 2015 / IAFEI ASIAN DAY - 24 NOVEMBER 2015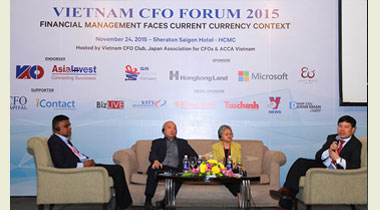 The Vietnam Chief Finance Officers Club (VCFO Club), the International Association of Financial Executives Institutes (IAFEI), the Japan Association of Chief Finance Officers (JACFO) and the Association of Chartered Certified Accountants (ACCA) co-hosted the Vietnam CFO Forum 2015 / IAFEI Asian Day with the theme, "FINANCIAL MANAGEMENT FACES CURRENT CURRENCY CONTEXT" at the Sheraton Saigon in Ho Chi Minh City on November 24, 2015.
Some 250 participants attended the Forum featuring timely topics affecting the finance executives. The Forum opened with a speech from the IAFEI Advisory Council Chair, Dr. Conchita L. Manabat. The coverage of the forum included –
Asia & Vietnam Economic Outlook for 2016 delivered by Mr. Nguyen Xuan Thanh, Director, Fulbright Economics Teaching Program
Are You Prepared for Exchange Rate Fluctuation? by Ms. Josephine Yei, CEO, Saigon Bank Berjaya Securities
Corporate Management Models for Profitability and Substance by Mr. Tran Xuan Nam, CFO, Saigon Paper Corporation
The CFO's Role in Business Development Strategy by Mr. Benjamin Pwee, Managing Director, E-Deo Asia
"Smart Finance Function in Today's Complex World by Mr. Joseph Alfred, Head of Policy and Technical, ACCA Singapore
Two panel discussions were held eliciting vibrant exchanges among the participants and the discussants. The two panels were led by Dr. Han Manh Tien, President of VCFO and Dr. Conchita L. Manabat of IAFEI. Mr. Nguyen Ngoc Bach, Director of VCFO delivered the closing speech.
About ten newspapers & magazines, and six television & radio channels had shot news, reports, and interviews on the event. Dozens of other media channels also cited information on the Forum manifesting high interests on the Forum. It was a successful event.
PHOTOS: CLICK HERE
AGENDA: CLICK HERE
45th IAFEI WORLD CONGRESS - 14-16 OCTOBER 2015 - MILAN, ITALY
Click on the image to view photos, presentations and videos.
INNOVATION: THE QUEST FOR COMPETITIVENESS
14-16 October 2015
Milan, Italy

Improving companies' competitiveness through their capacity to innovate. This was the central theme of the 45th IAFEI World Congress organinised by ANDAF in Milan from 14 to 16 October 2015. The works of the congress can be consulted in full on the ANDAF website (as a video), but, as is traditional, we provide a short summary in these pages.
PAST IAFEI CHAIRMAN HIROSHI YAGUCHI ADDRESSED THE 43RD NATIONAL CONFERENCE OF THE PHILIPPINE ASSOCIATION OF COLLEGIATE SCHOOLS IN BUSINESS (PACSB)
The founder of Japan Association of Chief Finance Officers (JACFO) and former Chairman of the International Association of Finance Executives Institutes (IAFEI) Hiroshi Yaguchi addressed the 43rd National Conference of the Philippine Association of Collegiate Schools in Business (PACSB) on April 24, 2015 at Hotel Dominique in Tagaytay City. Mr. Hiroshi made a presentation on Finance & Accounting Skills & Standards, an accreditation initiative being rolled out in Asia. Bearing the theme, Business Education: Global Trends & Developments, the national conference was attended by 150 colleges & universities' representatives from all over the country. Mindanao was reported to have the biggest delegation. Shown in the picture are – from left to right, Dr. Maria Victoria Ac-ac (incoming President of PACSB), Normita L. Villaruz (Chairperson of FINEX Foundation Committee on PACSB Initiatives), Hiroshi Yaguchi, Dr. Amado Magsino, (outgoing President of PACSB), Dr. Conchita L. Manabat (FINEX Foundation Trustee & IAFEI Advisory Council Chairperson), and Hiroaki Endo (IAFEI Area President for Asia).
VIETNAM CFO FORUM 2014 - NOVEMBER 25
The Vietnam CFO Forum 2014 on the theme of "Building Success From Failure" was hosted by Vietnam Chief Financial Officers (VCFO) in cooperation with Japan Association for CFOs (JACFO) and the Association of Chartered Certified Accountants UK (ACCA) on 25 November 2014 at Lotte Legend Hotel, Ho Chi Minh City. This is the 6th consecutive year the forum has been hosted.
This year's forum was honored to welcome distinguished delegates: Dr. Han Manh Tien, President of Vietnam Association of Corporate Directors (VACD), Mr. Hiroshi Yaguchi, Founder and Executive Director of Japan Association for CFOs, Mr. Nguyen Ngoc Bach, Chairman & CEO of AsiaInvest Group and Director of Vietnam CFO Club and Ms. Le Thi Hong Len, Head of ACCA Vietnam, Association of Chartered Certified Accountants UK (ACCA).
The conference was participated in by more than 300 delegates, including Chief Financial Officers, Senior Financial Analysts who are members of IAFEI, VCFO, JACFO, ACCA, experts from domestic and international financial institutions, and the leaders including Chairman and Chief Executive Officers of some of the largest enterprises in Vietnam.
When 2014 dawned, the year was welcomed with more optimism with prospects of a stronger economy expected. However, the majority of Vietnam enterprises are still facing difficult times, suffering heavy losses and facing the prospect of going out of business. This can be seen as an inevitable consequence of over-investments in the boom years of 2006-2008.
The highlight of the Vietnam CFO Forum 2014 was the sharing of experiences of local and Asian finance experts: Dr. Han Manh Tien - President of VACD, Mr. Nguyen Xuan Thanh – Director of the Fulbright Economics Teaching Program, Mr. Ong Wei – Managing Director of AsiaInvest Singapore, Mr. Le Hai Phong – CFO, Bao Viet Holdings, Mr. Craig Paterson – Regional Director – Risk Consulting – Jardine Lloyd Thompson (JLT), Ms. Le Thi Hong Len – Head of ACCA Vietnam, Mr. Robin Page – CEO, Treasury Management International (TMI), Mr. Peter Cheng – CFO, Microsoft Vietnam.
Local and international economic experts presented an overview of the Asia and Vietnam economic outlook for 2015, providing an insightful analysis of the underlying causes of the failure in investment of Vietnam enterprises during the past year. They also shared techniques and experience in capital attraction and risk control. The future of finance talent was also be a topic for discussion in the forum.
The forum was sponsored by gold sponsors: Microsoft Vietnam, Jardine Lloyd Thompson (JLT), Suntory Pepsico Vietnam Beverage and co-sponsors: Bao Viet Holdings, SCS Global Consulting Vietnam and the endorsement of media agencies.
PHOTOS: CLICK HERE
44TH IAFEI WORLD CONGRESS - 15-17 OCTOBER 2014
The Financial Executives Institute of the Philippines (FINEX) hosted the IAFEI World Congress for the 4th time at the Makati Shangri-la Hotel, Manila Philippines. The congress was well attended with about 300 delegates from FINEX and 34 foreign delegates from Canada, Chinese Taiwan, France, Germany, Italy, Japan, Mexico, Russia and Vietnam.
OCTOBER 15 - IAFEI MEETINGS, TOUR OF COCONUT PALACE AND WELCOME COCKTAILS
The IAFEI Executive Committee meeting was held in the morning of October 15 and this was followed by the Board of Directors Meeting during lunch and onwards. After the meeting, the foreign delegates together with some members of the FINEX Board and organizing committee went to the Coconut Palace, the official residence of the Vice President of the Philippines, Jejomar Binay. Read more...
OCTOBER 16 - DAY 1 - OPENING CEREMONIES, KEYNOTE SPEECH AND TECHNICAL SESSIONS
The 44th IAFEI World Congress was officially opened with the presentation of colors which was a parade of the IAFEI member institutes' banners and the flags of FINEX, IAFEI and the Philippines. After the invocation and the Philippine National Anthem, FINEX President Edmundo Soriano and Chairman Luis Ortiz-Hidalgo welcomed the delegates to the IAFEI World Congress. Ms. Carmen Seriña, the Chairperson of the Organizing Committee, gave an overview of the congress. Read more...
OCTOBER 17 - DAY 2 - BREAKFAST WITH ASIAN LEADERS AND MORE TECHNICAL SESSIONS
Asian IAFEI leaders from Chinese Taiwan, Japan, the Philippines and Vietnam met during breakfast on the 2nd day of the World Congress to exchange updates and views on IAFEI matters and to discuss initiatives that will strengthen IAFEI in Asia. Read more...
PRESENTATION MATERIALS:
Keynote speech of Department of Finance Secretary Cesar Purisima
1st Technical Session: GLOBAL FINANCIAL ECONOMIC LANDSCAPE - Mr. Kenichi Ohta (JACFO-Japan)
2nd Technical Session: GLOBAL ASSET ALLOCATION STRATEGY - Mr. Robert Parker
3rd Technical Session: ASEAN ECONOMIC INTEGRATION 2015 AND LESSONS FROM THE EUROPEAN UNION - Mr. Thiam Hee Ng
Breakout Sessions:
International Financial Reporting Standards - REVENUE RECOGNITION - Mr. Wilson Tan
International Observatory of Management Controllers - 2014 SURVEY RESULTS - Mr. Frederic Doche (DFCG-France)
International Tax - CFO'S STRATEGIC ROLE IN MANAGING RISING TAX RISKS:
International Treasury - IMPLICATIONS OF BASEL III ON CORPORATE BANK CLIENTS - Mr. Dominique Chesneau (DFCG-France)
5th Technical Session: ETHICS, GOVERNANCE & ANTI-CORRUPTION - Mr. Luis Fernando Ortiz-Dela Concha
6th Technical Session: CLIMATE CHANGE ECONOMIC RISKS AND OPPORTUNITIES
7th Technical Session: MANAGING DISASTER RELIEF OPERATIONS - Fr. Manuel V. Francisco, SJ
2nd Day Luncheon Session: BUSINESS PROCESS OUTSOURCING KEY FACTORS FOR GROWTH
43RD IAFEI WORLD CONGRESS & 6TH CFO SUMMIT EMERGING EUROPE & CIS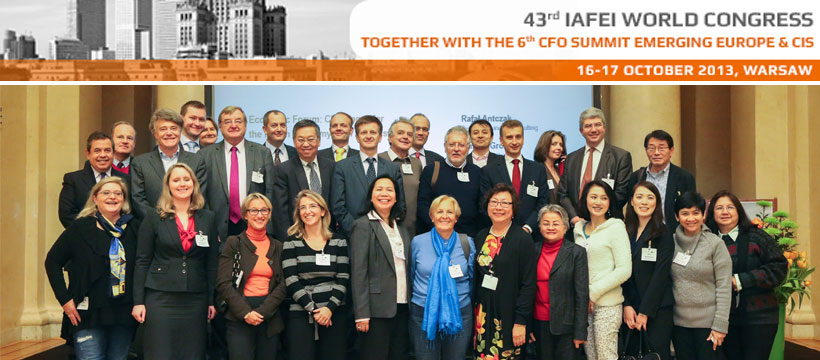 The 43rd IAFEI World Congress was held in Warsaw, Poland on 16-17 October 2013 at the Palace of Culture and Science. This year's world congress which was held together with the 6th CFO Summit Emerging Europe & CIS was organized by the Polish member institute, Stowarzyszenie Dyrektorów Finansowych (FINEXA) and CFO Insight, a German-based financial publication.
Around 330 financial executives from Poland and from 28 different countries participated in this year's congress. Read more about the activities during the congress: CLICK HERE & PHOTOS.
Please CLICK HERE for presentation materials of speeches and technical sessions.
IAFEI ASIAN CONSULTATIONS - 21-23 AUGUST 2013 - MANILA, PHILIPPINES
Initially planned only as a visit to the IAFEI Secretariat office, Chairman Luis Ortiz-Hidalgo's visit to Manila turned out to be very productive as the IAFEI Asian Member Institutes took advantage of this opportunity to have the IAFEI Asian Consultations where three Asian IAFEI member institutes, namely, JACFO-Japan, VCFO-Vietnam and FINEX-Philippines, participated. Not missing the chance of having an international tax expert in the country, FINEX also invited Chairman Luis as the guest speaker in their General Monthly Meeting (GMM) for August 2013. READ MORE & PHOTOS
XLII IAFEI WORLD CONGRESS AND XL CONVENCIÓN NACIONAL - 14-17 NOVEMBER 2012

Theme: THE ROLE OF THE FINANCIAL EXECUTIVE AS A KEY PLAYER OF THE CORPORATE GOVERNANCE AND RESPONSIBLE MANAGEMENT
The 42nd IAFEI World Congress was held on 14 to 17 November 2012 in Cancun, Quintana Roo, Mexico. This year's IAFEI World Congress was organized by IMEF-Mexico within the framework of their XL Annual Convention. The IAFEI World Congress is an annual event where Financial Executives from Financial Executives Institutes all over the world meet to discuss economic, financial and audit issues with the future in mind. This year, an audience of 324 Financial Executives from Mexico and from various parts of the world attended the IAFEI World Congress.
CLICK HERE to view photos in the IAFEI web album.
IAFEI ASIAN DAY / VIETNAM CFO FORUM 2012 - 17 OCTOBER 2012, HO CHI MINH, VIETNAM
Ho Chi Minh City, Vietnam – On October 17, 2012, Vietnam Chief Financial Officers (VCFO) in cooperation with Japan Association for Chief Financial Officers (JACFO), and ACCA hosted the Vietnam CFO Forum 2012 themed "Financial Restructuring to Overcome the Crisis" at the New World Hotel.
The event was attended by more than 200 representatives of the International Association of Financial Executives Institutes (IAFEI), VCFO, JACFO, and ACCA members, as well as representatives from international and domestic financial associations, chief executive officers, chief financial officers, and financial leaders.
Vietnam CFO Forum 2012 is an annual financial forum for financial communities, held as part of a series of the International Association of Financial Executives Institutes (IAFEI) activities to promote the sharing of local and international experiences, skills, knowledge and information in the field of corporate finance governance. IAFEI is a prestige institution with 16 CFO association members and more than 12,000 individual members.
The Vietnam CFO Forum 2012 focus was on financial restructuring, a top issue of concern of many enterprises. Given the context of economic difficulties, enterprises are suffering from huge losses, heavy debts and facing apparent threat of loss of liquidity. Corporate restructuring turns out to be a necessary process, and financial restructuring is considered a productive solution to help enterprises eliminate financial problems, improve business liquidity, and re-establish a strong capital structure to finance for future growth. Financial restructuring is also at the core of the whole restructuring process of an enterprise.
The Forum gave an overview of Asia and Vietnam's economic outlook in 2013 and new expectations on the roles of CFOs in the new age. Experts shared their practical experiences on surviving the crisis by ensuring a healthy cash flow, and ways to approach potential lenders, investors or acquirers seeking to expand in Asia to finance for future growth of enterprises. Also at the Forum, financial experts provided specific recommendations on applying appropriate financial tools so that enterprises could successfully carry out their financial restructuring process.
CLICK HERE for more information and CLICK HERE for photos.
CHAIRMAN HIROSHI YAGUCHI VISITS THE IAFEI SECRETARIAT OFFICE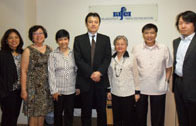 Chairman Hiroshi Yaguchi visited the IAFEI Secretariat Office in the Philippines on 18 October 2012. For more information, CLICK HERE.
XLI IAFEI WORLD CONGRESS - BEIJING, CHINA - SEPTEMBER 16-18, 2011