WELCOME TO IAFEI
The International Association of Financial Executives Institutes or IAFEI is a private non-profit and non-politcal association of Financial Executives Institutes from all over the world. Founded in 1969, IAFEI currently has 17 Member Institutes in the Americas, Asia, Europe and the Middle East, with a total membership of over 12,000 financial executives.
IAFEI aims to:
build and improve mutual understanding internationally among financial executives through the exchange of financial information, experience and ideas;
provide a basis for international cooperation among financial executives toward making financial systems and regulations more uniform, compatible and harmonious worldwide;
promote ethical considerations in the practice of financial management throughout the world.


CONGRATULATIONS TO MR. KENICHI OHTA FOR HIS ELECTION AS AREA PRESIDENT FOR ASIA FOR THE REST OF 2014
| | |
| --- | --- |
| | Mr. Kenichi Ohta of the Japan Association for CFOs (JACFO) was elected as the new Area President for Asia. He will be replacing Mr. Yoshiyuki Hijikata and will serve for the rest of 2014. For more information about Mr. Ohta, click here. |

WELCOME TO THE NEWEST MEMBERS OF IAFEI
The IAFEI Board of Directors recently approved the application for IAFEI membership of the financial executives institutes from:
Greece: Hellenic Institute of Financial Management (EIOD)
Russia: Russian Club of Financial Directors (RCFD)

CONGRATULATIONS TO DFCG-FRANCE ON THEIR 50TH ANNIVERSARY
The Association Nationale des Directeurs Financiers et de Contrôle de Gestion (DFCG) celebrated their 50th anniversary on 26-27 June 2014 in Paris, France. The event was attended by several representatives of IAFEI member institutes.

REMEMBERING GIULIANA BERTIN
On October 17, 2013, Giuliana Bertin, the first woman to be Secretary to the Board and Executive Director of the International Association of Financial Executives Institutes (IAFEI), passed away. Giuliana served IAFEI for more than twenty (20) years, deserving the special recognition accorded to her during the 35th IAFEI World Congress in the Philippines. A talented Italian woman executive, she exuded confidence and was a good communicator liaising with international finance leaders worldwide as she "manned" the day-to-day operations of IAFEI. Her role brought her to different cities of the world where she interacted and developed friendship with all the leaders of member institutes. A woman of grace, she got things done with her tenacity and ability to steer the operational concerns of the premier association of organizations of financial executives. She was survived by her husband Mario, her son, Marco and daughter, Valentina, and three grandchildren. Giuliana will be missed by her international friends at IAFEI.

43rd IAFEI WORLD CONGRESS 16-17 OCTOBER 2013 - WARSAW POLAND
The 43rd IAFEI World Congress was held in Warsaw, Poland on 16-17 October 2013 at the Palace of Culture and Science. This year's world congress which was held together with the 6th CFO Summit Emerging Europe & CIS was organized by the Polish member institute, Stowarzyszenie Dyrektorów Finansowych (FINEXA) and CFO Insight, a German-based financial publication.
Around 330 financial executives from Poland and from 28 different countries participated in this year's congress. Read more about the activities during the congress: CLICK HERE & PHOTOS
Please CLICK HERE for presentation materials of speeches and technical sessions.

IAFEI ASIAN CONSULTATIONS - 21-23 AUGUST 2013 - MANILA, PHILIPPINES
Initially planned only as a visit to the IAFEI Secretariat office, Chairman Luis Ortiz-Hidalgo's visit to Manila turned out to be very productive as the IAFEI Asian Member Institutes took advantage of this opportunity to have the IAFEI Asian Consultations where three Asian IAFEI member institutes, namely, JACFO-Japan, VCFO-Vietnam and FINEX-Philippines, participated. Not missing the chance of having an international tax expert in the country, FINEX also invited Chairman Luis as the guest speaker in their General Monthly Meeting (GMM) for August 2013. READ MORE & PHOTOS.

LINKS TO ACCOUNTING WEBSITES:

IAFEI EXTERNAL AUDITOR: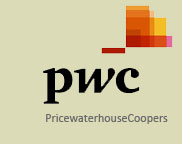 FROM OUR IAFEI SPONSOR
IAFEI LATEST NEWS
15-17 OCTOBER 2014
Makati Shangrila Hotel
Manila, Philippines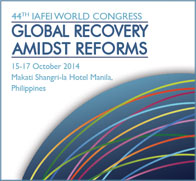 Click image to visit the website.
CLICK HERE for more information
CLICK HERE to download latest program
Next IAFEI World Congress:
45th - 2015 - MILAN, Italy
46th - 2016 - RUSSIA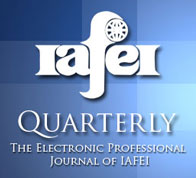 NEW! IAFEI Quarterly 26th Issue, September 2014 is now avaiable! Please CLICK HERE to download.
IAFEI Quarterly Special Issue, China's Finance Masters, 22 Sept 2014 is now avaiable! Please CLICK HERE to download.
INTERNATIONAL EVENTS OF INTEREST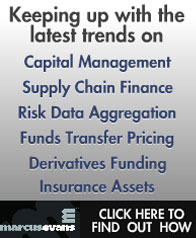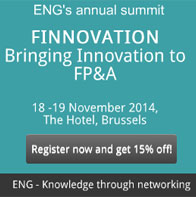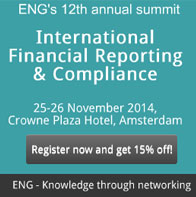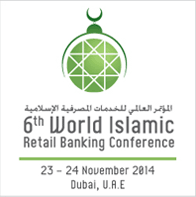 (Click on the images for more info)
For more details about these events, contact Armand Angeli at email address: armand.angeli@orange.fr or
telephone no.: +33 (0)6 0984 39 69
FEATURED ARTICLE
BUILDING NETWORKS FOR FINANCE PROFESSIONALS
by Dr. Conchita Manabat